European Links - Musician Stores Online
European Online musician stores have multiplied a lot in the last year or two. Europe is catching up fast with the USA online market. Here's a selection of the best UK/Europe online musician stores.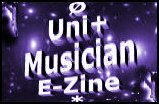 Sign up for your free (for now) Uni Musicians E-Zine In the near future this exclusive listing will be a paid only membership - now's your chance to get in for free.