Free Blues Guitar Lesson
Free Blues Guitar Lesson - This video demonstrates moving the Minor Pentatonic scale to different positions as the chord progression changes. It's shown using a Rocky Blues style, but the principles apply to standard Blues soloing too.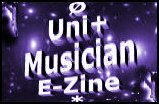 Sign up for your free (for now) Uni Musicians E-Zine In the near future this exclusive listing will be a paid only membership - now's your chance to get in for free.