Gibson Guitars
Gibson Guitars - Here's the Big Guns. As mentioned in our Electric Guitars Guide, many Gibsons are tried and trusted instruments used worldwide by countless players and Pros. Not the cheapest compared to some guitars, but certainly in this case you pay for what you get. A well deserved place in the guitar world of Industry Standards.
Certainly worth serious consideration if you want a big sound.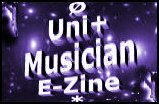 Sign up for your free (for now) Uni Musicians E-Zine In the near future this exclusive listing will be a paid only membership - now's your chance to get in for free.