Guitar Recording Tips
Guitar Recording Tips - a tricky one this, but here's a few general guidelines to get you going, dealing with acoustic recording basics. I'll be adding a few more soon regarding recording the electric guitar.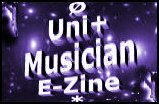 Sign up for your free (for now) Uni Musicians E-Zine In the near future this exclusive listing will be a paid only membership - now's your chance to get in for free.