Find at Amazon UK
*
UniGTR+ Presents ...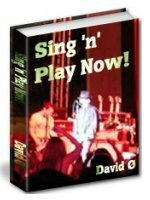 Sing 'n' Play Now! Performance Guide
*

*



*


Vox 1 / Midi - Drum Programming / Bells (recorded on location in Geneva, Switzerland;) / Biog and Demo Packaging / Artwork - Gerry Hoey.
Vox 2 / Recording / Mixing / Guitars / Bass / Demo Masters / Ordering at the Bar - David O'Toole.
- altho' there's nothing like the real thing such as blasting it out with rockin' combo, sometimes push comes to shove and the bills have to be paid.
Bittersweet Symphony: The original of course written and recorded by The Verve. Mix a quality backing track with live, versatile musicians. A recipe for a cookin', well-rehearsed and extremely tight 1, 2 or 3-Piece or ...whatever. The higher the number the more mouths to feed and so on.

#2 Super-effectively promote the band yourself by using your PC to design and produce high quality demos/for sale CDs, promo-packs, flyers, logos, posters, band-website, and whatever else you can dream up to get high paying gigs. There's so much under your control!

#3 Designate different duties to individual band-members. Cut out the middle-men! Keep the Money and the Peace!

#4 Give your Band some Visual Impact!

#5 Make sure all members are on the same wavelength. ie This a serious professional project, and the main aim is to earn some serious wages (and have a bit of fun of course). Explain clearly to potential partners what your aiming for, make sure your all on the same wavelength.
Follow these methods and you will make top wages and get the gigs you want!

To answer this question you need to look at the following list of what's needed, and what you already have or can afford to buy. Bear in mind that we're here to make money as well as set up and run a fun but Pro Unit.

In general, unless you are experienced, and can already sing and play a 2-Hour set, and cover all the duties necessary, I would suggest teaming up with 1 or 2 others who can share the load. If you're a guitarist pick a keyboard player and vice versa.

If you don't sing, start now! It's never too late. Take a few basic lessons or try a good tutor. Every week, pick 3 fast, simple, and popular songs that you like, and learn them until you know them backwards. In only a month you'll have 12 songs to contribute to the band. That's a third of a 2-hour set! Remember everyone sings in this group. Lead AND backing Vocals. The effort is worth it. The difference is huge!

Regardless of how many people you decide on (for an effective money-making unit you must consider this very carefully), here's a basic list of equipment and skills needed to operate a Money-Spinning Team. You probably possess some of it already. It's pretty basic stuff.

This subject is dealt with in more in Make Money Makin' Music! Part 2.
Gig Set-up Tips
Have a look at the stage and choose the safest place preferably a corner, and also with easy access for whoever's on the controls for the night.

Each venue will need an individual approach. Remember expensive equipment repair bills are not part of the plan, so taking and making a few simple precautions helps things along.

A very good tip for beginners is to allow some extra time for setting up, if it's the first time you'll be playing this particular gig. You'll get to know each stage if you play them on a regular basis, and the time involved for set-up. Please don't forget Murphy's Law.

When your placing the gear, do keep in your mind the loveable, enthusiastic but potentially dangerous, drink wielding punter. He or she can blow a fuse and your gear at the swish of an expressive hand.

For this type of problem, build a little BARRICADE between your gear and the dangerous parts of the dance floor, if there is one - Use guitar cases and the like, allowing of course the punters to still see and adore you ;-).

Keep a careful eye on your guitar pedals on the floor - a vulnerable part of any guitarist's defence - hmmm.
Ok here's a few well researched and used bits of kit, that will give you excellent quality and tone, along with a most important gigging factor... reliability. This gives you the freedom to concentrate on your playing and guitar, and not worrying why the right side is down or something horrible like that.
For a Microphone that will stand the punishment try a Shure SM58 Rugged and great sound. Great for live work AND recording guitars and vocals and... a lot of instruments.