Guitar Learning Video Guitar Learning Video has certainly come of age. With broadband speed becoming the norm, this is a relatively new and exciting way to watch, enjoy, listen and learn from guitar players from all over the world on video.

Below's a selection of cool guitar learning videos, including funky riffs, blues licks, chords, funky blues, jazz, overdrive tests, guitar effects and pedals demos, scales, arpeggios, power chords and a lot more - and there's a few oddball music and comedy ones in there too - find out where dead rock stars and celebrities go when they die! This collection is not fully edited yet so there maybe a few in there that don't belong - but edits are on the way as soon as I get the time. Anyhows, take advantage of this video resource, have fun, pick up a few guitar tips and enjoy the vids.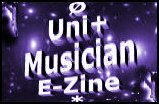 Sign up here for your free (for now) Uni Musicians E-Zine In the near future this exclusive listing will be a paid only membership - now's your chance to get in for free.