YouTube Musician Collaboration 2
YouTube Musician Collaboration - my second collab, a guitar response to just drums which then had Electric Bass, and Trumpet tracks laid down. Warning: This may be a bit "Jazzy" for some viewers :).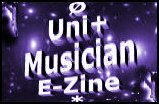 Sign up for your free (for now) Uni Musicians E-Zine In the near future this exclusive listing will be a paid only membership - now's your chance to get in for free.
Propellerhead Reason 3.0 Sequencing Production Software Hybrid CD Win/Mac