Free Guitar Video Lesson
Free Guitar Video Lesson: Check out this excellent player and classy lesson. Shows you a nice way of mixing Diatonic Scales in with the Minor and Major Pentatonic. Great for some cool Blues soloing.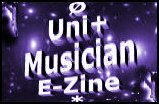 Sign up for your free (for now) Uni Musicians E-Zine In the near future this exclusive listing will be a paid only membership - now's your chance to get in for free.