YouTube Musicians Video
You Video Musicians Video - Enter The Cookie Monster Dude! ... After all the 'serious' Jazz Muso stuff I thought it might be a good idea to respond to one of the vids with this easy listening Dixie-style Jazz video I made. Featuring a video 'collaboration' I made with our little doggie, and an original cheeky little toon he likes :).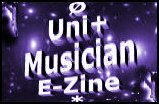 Sign up for your free (for now) Uni Musicians E-Zine In the near future this exclusive listing will be a paid only membership - now's your chance to get in for free.