Music Band Promotion #2 If you missed out on our 1st installment, including some excellent free web sites and tools, you can start here at Music Band Promotion #1

Now you have a free web-site (free or otherwise), sign up with the club listed below, and learn how to promote a site/project bigtime on a daily basis.

This makes all the difference in creating a successful site with TRAFFIC - this means in our case here, Band Exposure. Learning website promotion is something anyone can learn, and there are specifics steps you need to take to get your site out there.

Learn Search Engine Optimization (SEO) and how to set up your pages to be listed all over the Net.

To find out more on how to go about learning and using many of these modern techniques, I would strongly recommend to join the 5 Pillar Club (it's free to join at the moment). You can download tons of free and very high quality e-books on the subject such as web site building, reciprocal links, Search Tools, pricing goods, (I had a friend write the other day re European Gigging Prices and how much to ask for, and I recommended a 5P e-book to him - it gives you a good idea of "Price Backgrounds, Ceilings" and so on).

5P Club members can learn and utilize just about every available online technique in current use at the club - they even have their own 5 Pillar University up there.

Music Band Promotion #2 Free Band Merchandise Web Store

To build your own shop and create and sell items with your Band photos or logos on them, check out Cafepress At Cafepress you can create customized and varied merchandise such as books, photos, t-shirts, and CD's, then sell the products through your own page on the Cafepress Web Site, or at gigs and so on. Here's a page demo I've put together on the Cafepress site to hopefully give you an idea of what's possible, it's very easy to set up and you can have as many shops as you like. You can have a look here at the Cafepress Musicians Promo Page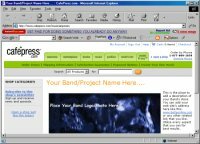 See you in Music Band Promotion Part #3 where we'll be looking at some unusual traffic boosters and fave's - a few more of the best and most effective ideas to mega-boost those ratings! Good luck and happy promoting.